Sanderling is a DeFever 41 motor vessel, built in 1987 in Taiwan by BLUEWATER YACHT BUILDERS LTD, and formerly named Ch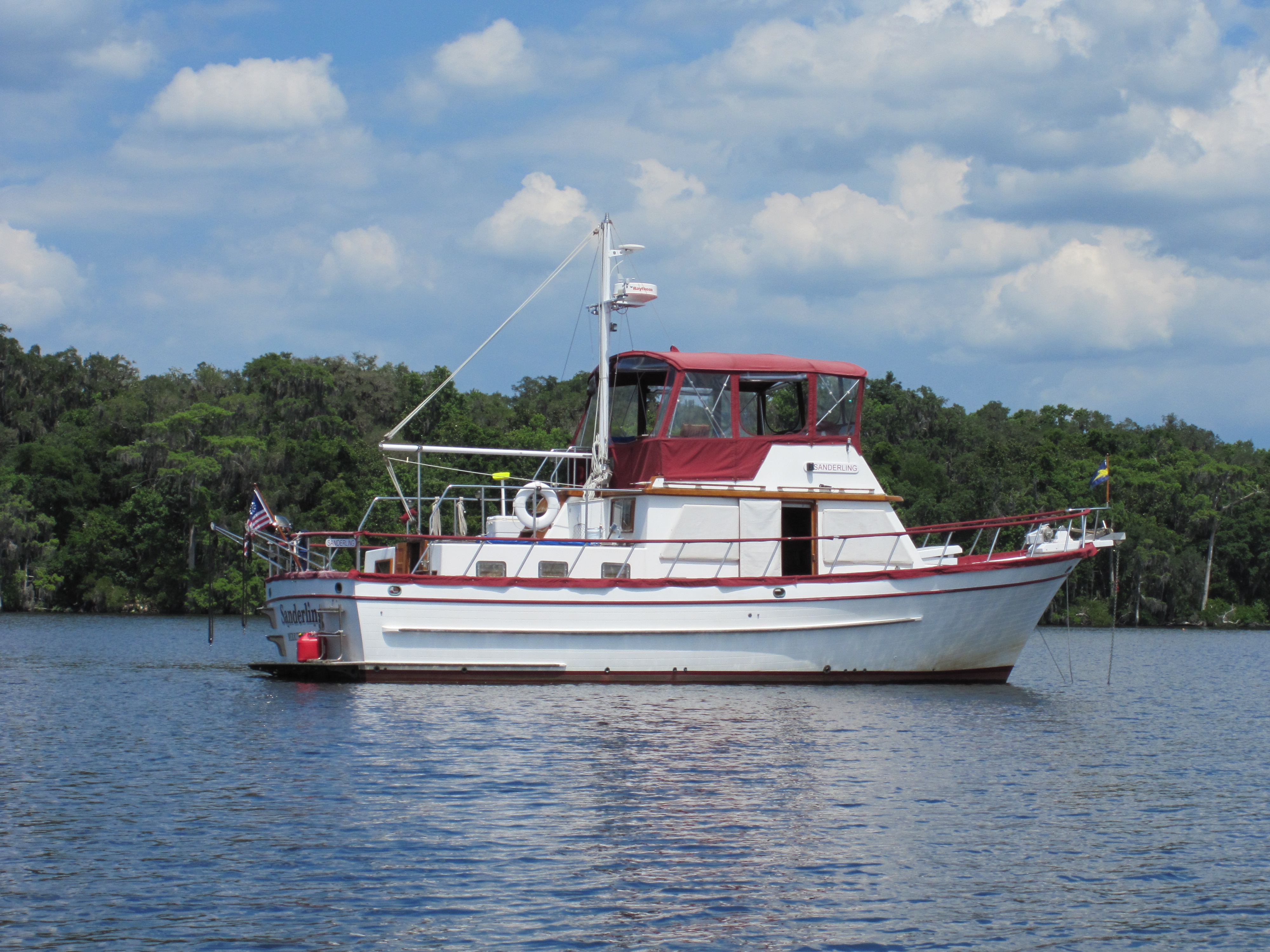 ina Pearl and Walkabout.
Sanderling measures 40.6 feet in overall length (34.6 feet waterline), with a beam of 14.5 feet, a draft of 4.0 feet, and displaces about 19 tons when fully loaded. Approximate air-draft measurements are as follows: 22'3″ to the top of the radar mast and anchor light; 15'3″ with the radar mast laid down; 10.0 feet with the bimini totally down (radar mast laid down).
Sanderling is powered by a Ford-Lehman 135 horse power, naturally aspirated diesel engine, connected to a Borg-Warner Velvet Drive transmission with a 2.47:1 ratio. Burning 1.7 gallons of diesel fuel per hour at 1600 RPM (6.5 knots or 7.5 MPH) she has a cruising range, before refueling, of around 1200 nautical miles.
Sanderling has three main compartments inside: the main saloon, a forward V-berth with separate head/shower (for guests), and an aft cabin with separate head/shower/tub and walk-in cedar hanging locker. Outside she has walk-around decks, an aft deck above the aft cabin, and an enclosed upper deck and topside steering station above the saloon.
Sanderling is equipped with Furuno radar, two Garmin GPS units, and a depth sounder and fish finder for navigation; two heat pumps for heat and air conditioning for climate control; a 5 gallon water heater which operates on 120 volts and is also heated by the engine cooling system when underway; an Onan 8KW diesel generator for 120 volt electricity; a 110 volt refrigerator with separate freezer; and a Force 10 three-burner propane stove with oven and broiler. She's also equipped with two VHF radios, plus a hand held VHF radio, a five person Achilles dinghy (with oars and a Tahatsu 6 HP 4-stroke outboard), a Magnum 2812 combination 125 amp 3-stage charger/2800 watt inverter controlled by a ME-ARC50 remote, a Heart/Xantrex combination 100 amp 3-stage charger/2000 watt inverter (inverter disabled), AM/FM/CD stereo and CD changer, 12 volt lighting, pressurized water, a combination washer/dryer, and a West Marine party sized propane grill.
She has two separate battery banks: 10 T-105 (golf cart) batteries are combined into a house-bank for 12 volt needs producing 550 usable amps (1100 amps total); and one group 24 battery for starting the generator in an emergency. While underway, the main battery bank is charged by a Balmar 110 amp alternator. Battery status is monitored by the ME-ARC50 as well as a Link 1000 monitor.
Fresh water capacity is 160 gallons; fuel capacity is 400 gallons divided between two tanks. Fuel is filtered through one 30 micron Racor 500 filter, one 2 micron Racor 500 filter (set in a lever selected two-filter manifold), and two on-engine 10 micron filters.

Primary ground tackle consists of 260 feet of 5/16″ HT" chain attached to a 55 pound SuperMax adjustable anchor, and 300 feet of 5/8 inch three strand nylon line with 10 feet of chain attached to a CQR anchor as secondary ground tackle. The anchor windlass is a Lofrans Tigress 12 volt model, which can raise as well as lower the anchor and chain from controls at both the topside steering station and a tethered remote at the windlass itself.
Each head is equipped with a holding tank with electronic level monitor and a separate electrically operated Lectrasan unit for processing waste.